The 4-H Intercounty Dairy show is an annual event first started at the Lincoln County Fair many years ago.
---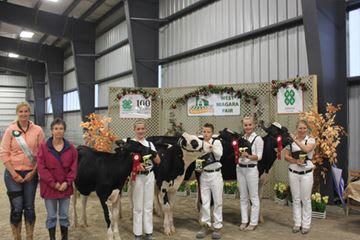 The amalgamation of the two fairs in Lincoln and Smithville saw the Inter-county show at the new West Niagara Fair grounds in the warmth and comfort of the Richardson Building away from the traditional rain on this day.
The showmen escort their calves in to the show ring, to be judged by Mr. Scott Walker of Guelph, Ont. Walker was born not far from the fair in Grassie.
NiagaraThisWeek.com
By Ann Marie Chechalk