West Niagara Agricultural Society Receives $100,000 Donation from Richardson International at the Ground-breaking Ceremony for the new West Niagara Agricultural Centre
PRESS RELEASE - APRIL 6, 2015

West Lincoln, ON – April 6, 2015 Easter Weekend was cause for celebration for the West Niagara Agricultural Society (WNAS). They held the official ground-breaking ceremony with board members, and local politicians on Saturday, April 4th to mark the start of construction of the long awaited West Niagara Agricultural Centre project. The ceremony was made that much more special by the donation of $100,000 to the Agricultural Hall by the Hamilton export terminal of Richardson International Limited, Canada's largest agribusiness and recognized as a global leader in agriculture and food processing.

The new West Niagara Agricultural Centre project is the culmination of years of planning after the amalgamation of the Lincoln Agricultural Society and Smithville Agricultural Society to form the West Niagara Agricultural Society in 2012. While work officially began on the property in late January of 2014, it was stalled by red-tape and approvals which have now been rectified to allow construction to begin. Crews have been working for a couple of weeks, with the footings for the Agricultural Hall poured and tons of dirt moved.
"It has been a long-time coming, I along with our board and members of the agricultural society are extremely excited to see the work in progress finally", said Stephen Capell, Past-president of WNAS. "It has been a lot of hard work in bringing two boards together to work as one under a new directive, hiring of contractors, architects, engineers and the forming of committees to oversee the project".
Ground-breaking at the West Niagara Agricultural Centre – Grassie, Ontario Mud and Mountain Road. (Left to right) Dave Glenney, KLS Engineering Dave Walters, Walters Excavating, Ron Brouwer, Brouwer Construction, Dean Allison. MP Niagara West-Glanbrook, Albert Witteveen, President West Niagara Agricultural Society, Tim Hudak, MPP Niagara West-Glanbrook, Mayor Joyner, West Lincoln, Mayor Bentley, Grimsby, and Dean Glenney, KLS Engineering. Photo by Debi Katsmar.

Each of the politicians took turns expressing their appreciation of such a facility in their midst, also taking the time to thank the many volunteers and board members for their hard work and dedication to the project and agriculture in the area.

The day was made more eventful with the presentation of a $100,000 donation to the West Niagara Agricultural Society from Riley Verhelst, Director of Operations of Richardson International Limited, Hamilton. The donation was given as part of the Raise the Barn, Grow the Community Fundraising Campaign. Richardson International LImited is a worldwide handler and merchandiser of all major Canadian-grown grains and oil seeds and a vertically-integrated processor and manufacturer of oats and canola-based products.

Richardson employees over 2,500 people across Canada.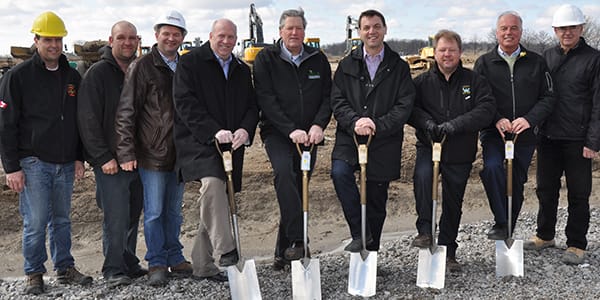 From left to right, Riley Verhelst, Richardson International, Albert Witteveen, President West Niagara Agricultural Society, Nick Hopman, Brady Johnson and Cathie Nagy of Richardson International. Photo William Harkness

"Richardson International has a strong history of giving back to communities all across Canada. We were grateful to Cathie Nagy, one of our employees for bringing this project to our attention. We are very proud and excited to give this $100,000 to an agricultural project in our back yard which will benefit the entire Niagara region" said Riley Verhelst of Richardson International.
One of the major buildings being constructed on the property is the Agricultural Hall. Given this donation, the building will be known as Richardson Agricultural Hall.

In March of 2014, the Raise the Barn, Grow the Community Fundraising Campaign was launched to help with costs associated with furniture, fixtures and equipment for the new facility. While off to a slow start as well when the project stalled last spring, WNAS anticipates a rekindled interest in donations coming forward for their very aggressive goal of $1.5 million for furniture, fixtures, and equipment to allow for efficient operations and a facility with all the amenities for bringing events to the area.


Albert Witteveen, President of West Niagara Agricultural Society summed up the day
"This is such an exciting time for the Ag society – work has begun on the grounds with a concentrated effort to have the majority of the site finished and ready for the fair in September. And being the recipient of such a generous donation from Richardson International gives us the knowledge and inspiration to grow agriculture in Niagara knowing we do not stand alone".