Are you looking for a space to host a fundraising banquet? a corporate event? an awards night? or a large workshop/meeting? Our Community Hall can give you all the space needed and the extras.
There is one main hall in the building which means your event is exclusive - no need to worry about sharing with another event.

From the building foyer you enter the main hall through two sets of doors. Off of the large foyer is a cloak room, a smaller meeting room and the washrooms. 

The main hall is 7,000 square feet with 16 foot ceilings. Our large kitchen has everything a caterer needs including a large walk in cooler and plenty of prep space. The caterer can serve directly into the hall through 2 access doors as well as a roll up window. The adjacent bar room includes a cooler and freezer with plenty of counter space and also has a roll up window that serves into the main hall.

In our back storage room there is a large roll up door, offering direct access into the hall and the kitchen and can fit a vehicle inside to offload. 

Our hall can fit up to 400 people for a sit down dinner. We provide tables and chairs and there are enough to accommodate up to 400. 

In the main hall is a basic sound system complete with a wireless microphone and the ability to provide sound  from a laptop or a cell phone. We also provide a laptop projector and a stand alone projector screen. 

In the hall is a low 24ft x 12ft stage, along with a podium. This stage can be moved around in the room, made smaller, or taken out completely if you wish.

Directly adjacent to the Community Hall is a large outdoor space featuring a gazebo garden. This space can be accessed from the main hall and can be added as additional space for your event. The main hall itself has large windows overlooking our lovely rural property.

We offer plenty of parking and our spacious location is central to Grimsby, Lincoln and West Lincoln and easily accessible from major highways. Overnight accommodation is available in nearby Grimsby and we are close enough to add an excursion through Niagara wine country.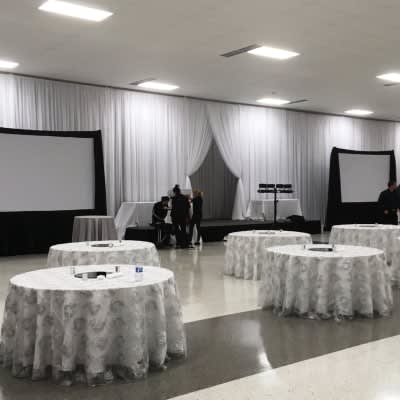 Take a look at the pictures below and call us today to book a tour! 
Venue Rental Request
Please complete the form below to request information about booking your event. Thank you!